Behind the Photograph – Chosen.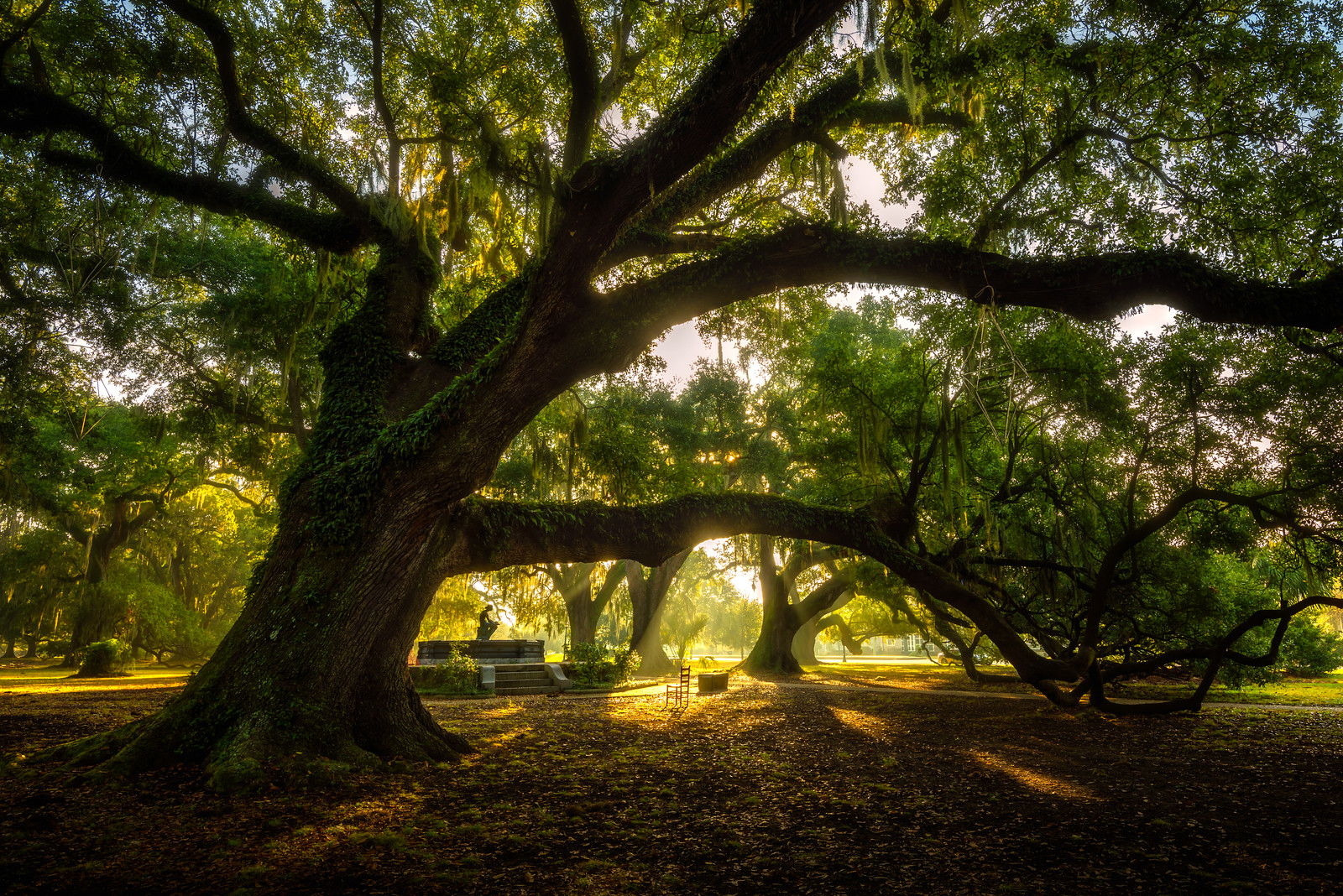 The convergence of light and fog are at their peak in south Louisiana in late November to early December. I always keep an eye on the weather forecast that time of year to see if the conditions will line up for that perfect combination. Usually it means a day after a cold front as passed where the skies are clear and wind is very light. When that happens that time of year, you usually get surface level fog that accentuates morning sun rays.
So in late 2017 and with my gear in tow, I awoke pre-dawn, grabbed the red chair and hustled down to City Park in New Orleans where there is never a shortage of photography opportunities – no matter what the conditions.
When light pierces through the trees on a foggy morning, magic often happens. And sure enough, magic happened that day. There were lots of places in the park that morning where some spotlight type conditions were evident but the backdrop didn't fit what I was envisioning. The morning was nearly wrapping up when I turned the corner near the Butler Memorial Fountain at the southernmost part of the park. What I had envisioned had materialized – light rays peaking through the branches framed by the boughs of an ancient oak.
I only had about 5 or 6 minutes of light in that position left before the sun would be above the tree line so I had to hustle. So – like a totally normal person – I ran with tripod in one hand and chair in another to the spot you see in the photograph. Keep in mind, it was a beautiful New Orleans morning and joggers and walkers were out in force. Clearly I got a lot of strange looks – which I usually do when I'm doing any red chair shoots.
The looks usually range from, "Why are you carrying a chair?" to "Hey, you left your chair over there."
I composed the shot several times with the fountain in view, to out-of-view, and to partially in-view. Ultimately, the composition I thought was most appealing was one where the fountain is almost emerging from the elbow of one of the large oak branches. It provides additional scale to the photograph without diminishing the central focus – the chair.
From a technical standpoint, the photograph was challenging to edit in post-production. The light in the background made the foreground extremely dark. I wanted to maintain that framing but draw out some of the detail and color in the branches and ivy that draped on the oak's trunk and branches. In the end, I was extremely pleased with the end result – a photograph that captured the ethereal quality of the park's feel on that foggy morning.
I hope you enjoyed the backstory on this photograph. I'll be posting more of these over the coming weeks on my more popular photographs.
See ya.
Ryan